Calling a spade a spade, all the suggestions that General Electric (GE), could, and probably should, cut its dividend aren't off base. The company's a train wreck right now. On a mathematical/GAAP basis, it can't justifiably afford to maintain its current payout, which is only half of what it was a year ago.
Equally obvious is activist investor Nelson Peltz's recent suggestion that GE is seriously considering a significant breakup. Nobody really doubted that's at least one of the things new CEO John Flannery had in mind when in January he said all options were on the table. (Observers weren't thrilled with the idea then, but have warmed to it now, but that's a different story.)
And, if we're being honest, nobody was truly shocked when Flannery said last month that the company's energy division wasn't on the road to recovery yet; most investors know there's no quick fix to what really ails General Electric.
So why all the wild swings to news that really isn't news? Because the market doesn't "get" GE right here, and right now. It's little more than an instrument of speculation, which is anything but normal for the iconic blue chip.
The good news is, the unusual situation the company – the stock – is in actually sets up an opportunity for long-term investors that can look past the headlines d'jour.
Perspective
It's maddening how overused the Benjamin Graham axiom "In the short run, the market is a voting machine but in the long run it is a weighing machine" is used, so it's with great trepidation I invoke it now.
On the other hand, if the shoe fits and the cliché applies… well, you get it. GE shares remain mired in hysteria, and that's preventing long-term-minded investors from seeing what's plausibly in store one year from now, let alone three years from now. In the end though, where GE is likely to be three years from now is in better shape than the market's giving it current credit for.
Analysts think so anyway. Take a look.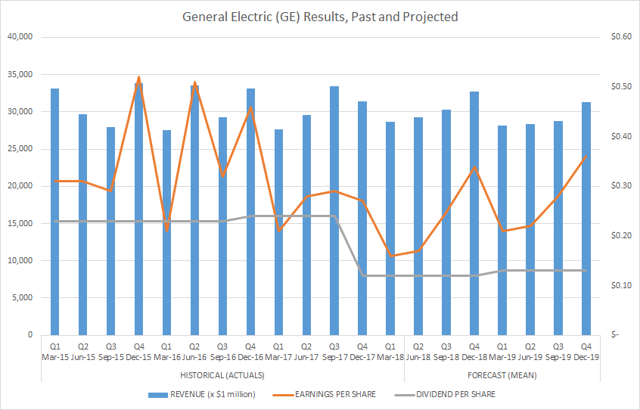 Source: Thomson Reuters/image made by author
But cash flow? Yeah, that's a hang-up, though not as much as one might fear. A closer look at General Electric's books clarifies that on an operational basis, GE is cash flow positive. It's just not cash flow positive enough right now to service its pension and debt obligations and also make meaningful, much-needed investments in growth that will supply more cash flow in the foreseeable future.
Maybe that's in the cards sooner than we're being led to believe though.
Yes, the power division is a liability. There's at least a path to profitability in the arena though. Flannery explained during the first quarter call:
"First, we continue to have leading technology, deep domain, digital solutions and broad and deep customer relationships. We continue to be viewed as a go to provider in our industry and we are fighting for every opportunity in the market.

On the cost side, in an industry that clearly has excess capacity, we are aggressively moving to right size our footprint and base cost. We took out $800 million of structural cost in 2017 and an additional $350 million in the first quarter. We are on track to exceed our $1 billion target for 2018 and headcount and sites are coming down….

…We are driving out cost and addressing the quality issues we had last year. The team has introduced a new sales force compensation program specifically aimed at driving transactional services and margins. We have a new leadership team in our supply chain and they are reinvigorating the use of lean and Six Sigma to drive better execution. The H cycle time is down 20%. Ultimately our goal is to cut this another 50% or more…

… we are also exiting non-core assets as we simplify the business."
OK, it's not sexy, but it was never going to be. It's a multi-year project, and a long-term project that becomes increasingly viable each day crude oil prices linger above $60 per barrel. Corporations aren't fully opening their wallets until they know capital expenditures on GE's power wares make sense.
In the meantime, aviation and healthcare are still performing well, and growing. The IATA forecasts that air traffic demand will double over the course of the coming 20 years, and the need for healthcare equipment is never going away even if that market is ever-changing. The Centers for Medicare & Medicaid Services reckoned that healthcare spending would grow 5.5% per year through 2026, largely driven by the 10,000 baby boomers that are retiring every day.
Meanwhile, the decision to shed its locomotive business is a big step towards the streamlining of the company that will ultimately unlock the value Flannery and Peltz (among others) have been talking about for a while.
Baby steps.
Green Shoots from GE Stock
To that end, some bulls are occasionally peeking their heads out in the meantime, planting seeds for a few green shots from the stock.
This is where things get interesting, and tricky. All of the technical recovery efforts made thus far have been up-ended. Even the best technical rebound we've seen in months – the one from last month – was largely wiped away. Take a closer, second look at the chart though. The tumbles are hurting less and less, and the rallies are making more and more progress.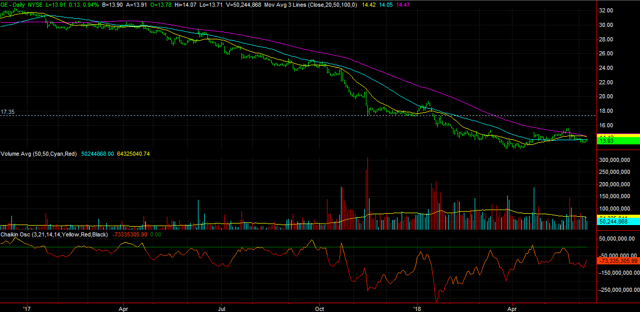 Source: TradeStation
It's still a fits-and-starts process, but the tide is turning.
It's also turning more than you might guess with that second glance. The rising Chaikin line (bottom) says there's a good amount of volume behind the recovery effort. Those bulls aren't terribly vocal, but they're putting their money where their mouth isn't.
It's largely a matter of greater confidence that will get – and keep – the stock back on track.
That confidence will be built on someone else being willing to stick their neck out, by the way. Moreover, that confidence will be built on the heels of certainty that the company is indeed going to unlock value by selling pieces of itself. Again though, that's a multi-year process. The market is slowly starting to digest this reality, which old-school GE shareholders never had to chew on in the past.
Patience
It's still more of a trade than an investment, to be clear. But, it's one of those trades that could slowly morph into an investment… that rarest kind of stock picks.
Fanning those would-be-bullish flames even more than getting better income out of the company's revenue-bearing assets will be, as was noted, more apparent progress on the breakup front. As Stifel analyst Robert McCarthy recently put it, GE is only rated a hold "absent a more material, dynamic breakup."
That stance puts Peltz's comments from late last week back in the spotlight, reminding investors that Flannery wasn't just blowing smoke a few months ago when he alluded to the same. It's coming, even if investors can't fully see it yet, and even if they can't fully appreciate the fullness of the prospect. Melius Research estimated late last month, when General Electric shares were priced at $13.28, that such a price "likely undervalues the assets by 25 percent or more" were the company broken into marketable pieces. With a current price of still less than $14, the bulk of Melius' upside is in front of the stock.
It's also possible that even Melius' outlook underestimates how well GE's aviation and healthcare arms could perform.
As for a target, Melius effectively says a post-breakup value would make GE stock worth around $16.60, at least. The chart wrestled with the $17.35, as support, and resistance, late last year and early this year. The figure is still within Melius' "or more" range.
The toughest part of such a trade? Sticking with it even when the headlines are terrifying. They're taking smaller and smaller bites out of the stock, as investors understand the situation better and better. It's a process though, and GE shares aren't fully out of perception-purgatory just yet. They're getting closer though, and may be worth the risk of getting into before it fully happens.
The risk profile plunges dramatically if-and-when GE shares hurdle the converged 20-day and 50-day moving average lines at $14.39.
If you're looking for stock picks that are less speculative and better-founded investments, take a test drive to The Well-Rounded Investor service. You'll get top-down sector analysis and bottom-up market analysis that identifies the market's best bets… names you may have never found on your own.
Want to know if we add General Electric to The Well-Rounded Investor portfolio? Better yet, want to know if we like a particular pick more than GE? Take a free two-week test drive to see what this new kind of newsletter is all about. There's a new pick cued up for later this week.
Disclosure: I/we have no positions in any stocks mentioned, but may initiate a long position in GE over the next 72 hours.
I wrote this article myself, and it expresses my own opinions. I am not receiving compensation for it (other than from Seeking Alpha). I have no business relationship with any company whose stock is mentioned in this article.